MONGUL GOLDEN IMPERIAL Mongolian Fur Medieval SCA Hat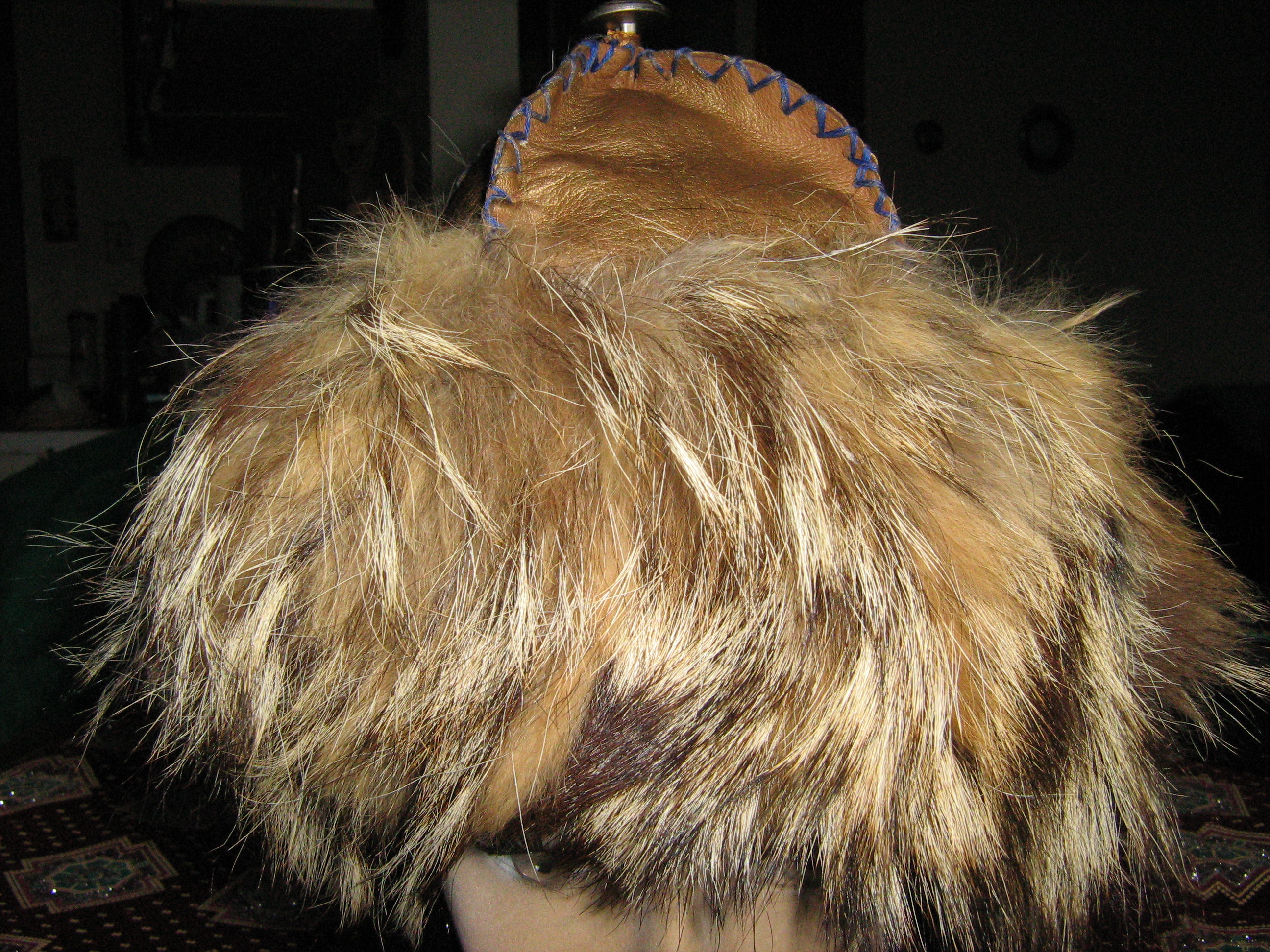 $ 49.99 USD
ATTEND YOUR UPCOMING EVENT IN STYLE
IN MY NEWEST DESIGN
PRESENTING
'THE IMPERIAL KHAN"
SPECTACULAR GILDED GOLDEN LEATHER STITCHED WITH ROYAL BLUE THREAD
FINISHED WITH THE MOST MAGNIFICENT GOLDEN LUSH, LONG RACCOON FUR TIPPED IN BLACK AND WHITE
FINISHED WITH GOLD TOP KNOT (BLACK/WHITE CERAMIC PENDANT IS INCLUDED)
GET READY TO PRESENT AT COURT
WITH THiS ONE OF A KIND SPECTACULAR HAT
RED GOLD Mongolian Medieval SCA Hat BROWN BEAR FUR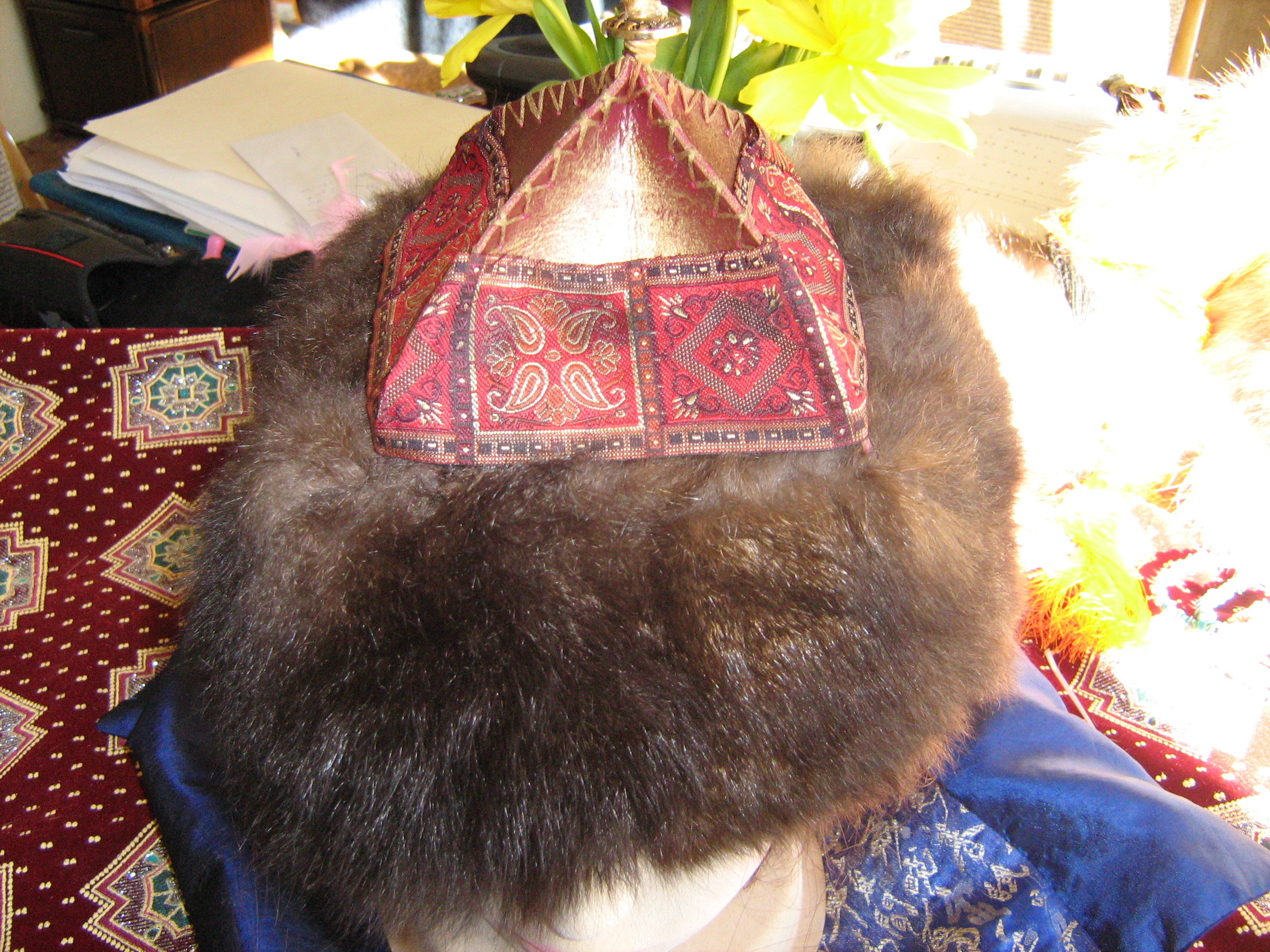 $ 39.99 USD
PRESENTING

MOGUL STYLE HAT IN FAUX RED LEATHER WITH GILDED FINISH AND TRIMMED IN SOFT BROWN BEAR FUR WITH EXQUISITE RED OR BLUE ORIENTAL TRIM
HIGH TOPKNOT
3 FOOT LONG WOOL TAILS ENDING IN A TASSEL. WINE WITH CIRCLE MIRRORS TASSELS
JEWEL ADORNMENT AND EXQUISITE TRIM COMPLETE THIS BEAUTIFUL MONGOL HAT.
see my trim section for more selection and order trim to have your outfit match
IF YOU WANTED A ONE OF KIND HAT NOW IS THE TIME TO BUY ONE
MEDIEVAL TRIBAL GILDED SCA WARRIOR MONGOL HAT LYNX FUR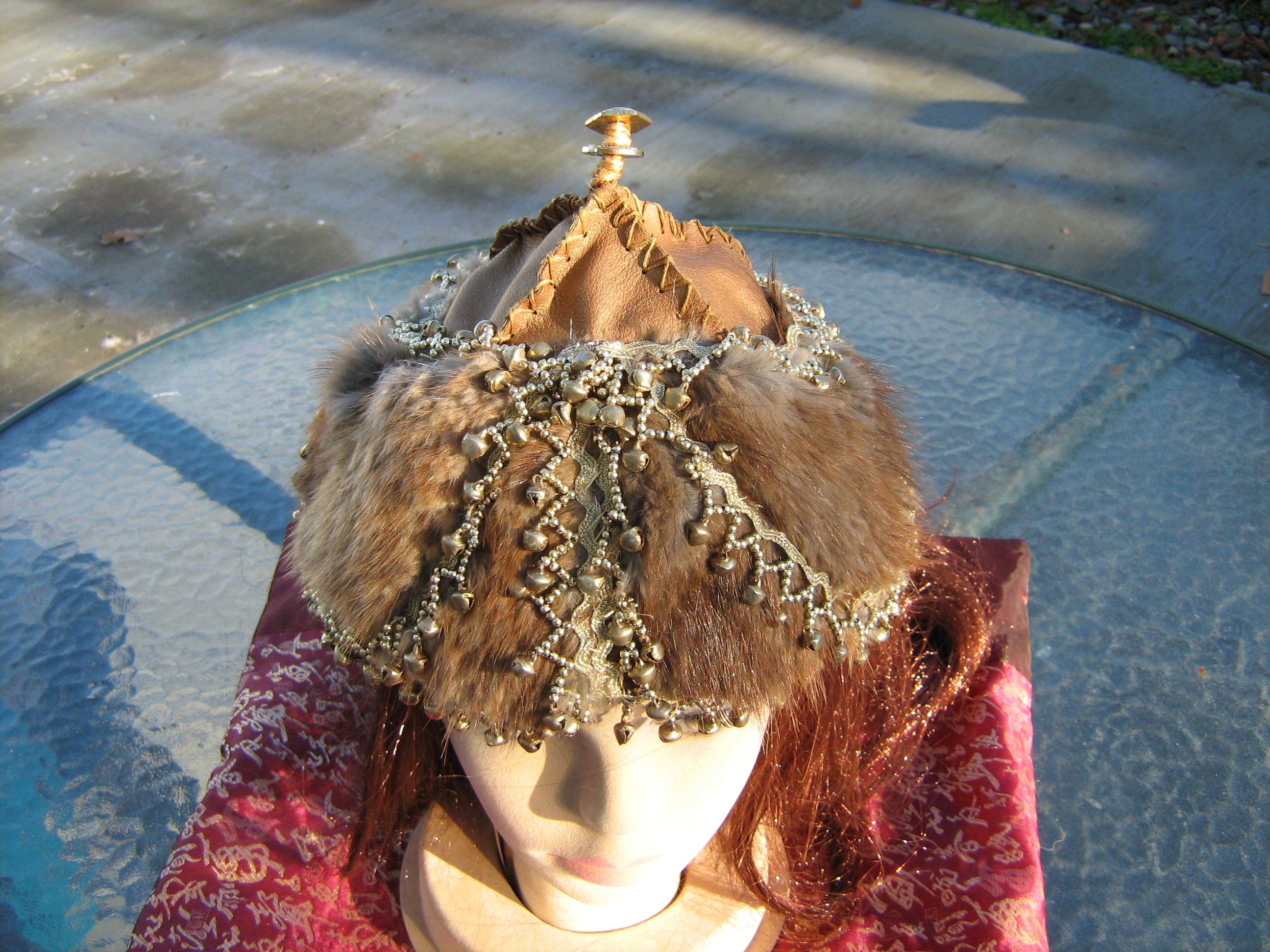 $ 49.99 USD
THE MOGUL OF MONGOL HATS
PRESENTING
THE CHIEFTAN'S HAT
THIS WONDERFUL TRIBAL HAT IS DONE IN TRADITIONAL BROWN AND BLUE STITCHING
TRIMMED IN WONDERFUL MEDIUM LENGTH CREAM WITH BLACK TIPS LYNX FUR WITH EXTRA WIDE BAND AND TWO LONG FUR TAILS THAT HANG DOWN THE BACK OR CAN BE USED TO KEEP NECK WARM
SPECIAL DESIGN OF BRONZE BELLS IN CIRCULAR PATTERN
Done in a traditional four panel design with the two long tails in back . This hat is a wonderful embossed tan leather with blue and brown stitching and gold lion's head buttons. The topknot features a gold lions head button and blue ceramic dragon pendant in front (can be detached and worn on a thong). The fur is unbelievable with using a least four times the normal amount for a regular hat. I only make about five of these hats per year because of the expense and work.
With rings on your fingers
And bells on your hat
You will have music

Wherever you're at